About Kwiziq
About Scoring and Levels
About Testing
About Features for Teachers
About My Account
About French
About the site or your account
Questions about Kwiziq
What is Kwiziq?
Progress with Lawless French uses Kwiziq, a powerful A.I. software "Language Coach" that intelligently helps you improve your French by finding out exactly what you know, don't know and have mis-learned (or mistakenly assumed to be true). It challenges you with personalized kwizzes that build up a picture of your confidence across the language.
What's the difference between Kwiziq and Progress with Lawless French?
Both sites are powered by Kwiziq and in that sense they are (almost) the same. You can use any Kwiziq-powered site (we have a growing number) and it will always be your Kwiziq account underneath storing your progress.
Laura's main site, www.lawlessfrench.com (note "www" instead of "progress"), has a number of additional resources that are also linked to Kwiziq. It will keep track of your progress (wherever you see kwizzes on those pages), so in short, it doesn't matter which version you use.
We understand that people visit many web resources in their attempts to learn a language and so our aim is to provide a common supporting learning platform beneath these for a more connected and intelligent learning experience.
How does Kwiziq help me learn?
Kwiziq breaks the French language down into its smallest components, a bit like language "atoms": vocabulary and grammatical rules. Our database has thousands of questions specially designed to determine how well you know all of these things, and by kwizzing you on them, it can find out what you know - a bit like a human tutor would simply by talking to you.
Kwiziq first builds up a rough picture of your approximate level, and then starts to get in to the details, kwizzing you in relevant areas to help you practise recall, mobilise what you know and reinforce your memory. It will help you identify your own mistakes so that you don't accidentally practise writing and saying the wrong things, and it'll show you examples with video and audio of the correct forms so you can see and hear them.
Kwiziq is like your very own personal tutor, available all the time. And it's even better if you already have a human teacher or tutor because it can help them teach you French even faster (ask them to get in touch and we'll help them help you).
You don't need to know or worry about the details:
KwizBot will work out exactly what you need to practise next (and organize it nicely into a StudyPlan on your Dashboard), and will help you perfect your French by selecting a few key things at a time from:
482 grammar lessons from A0 (Absolute Beginner) through to C1 (Advanced French)
2,153 items of vocab
13,818 verb conjugations (voiced)
It will also enhance your recall with 5,044 questions, all with detailed lessons, teaching by example with audio and video:
3,019 voiced phrases
314 videos
Kwiziq keeps a list of the ten most relevant lessons for you to read in your StudyPlan, and updates this list every time you take a kwiz.
Kwiziq will show your progress with a motivating improvement timeline as well as graphs breaking down how you are doing, in order to help you to identify your own strengths and weaknesses in areas like:
Adjectives & Adverbs (72 topics)
Idioms (76 topics)
Negative Words & Constructions (38 topics)
Nouns & Articles (33 topics)
Numbers, Time & Date (17 topics)
Prepositions (39 topics)
Pronouns (83 topics)
Questions & Interrogatives (19 topics)
Verbs Tenses & Conjugation (167 topics)
If Kwiziq discovers you're an intermediate or advanced student, it will help you to go back and fill any gaps in previous levels. So don't worry if you didn't quite learn all the verb conjugations in l'imparfait or le passé composé before you moved on to le futur and le subjonctif, Kwiziq will ensure you master everything.
Can I save or bookmark lessons?
Absolutely! Here's how to save lessons to and use the Notebook.
Can I choose specific lessons to study?
Sure! Just use the search box in the upper-right corner of any page or visit our grammar index.
How can I type accents?
Desktop and laptop users can easily type accents with our custom-built accent picker: just press and hold the letter that you want to add an accent to, or the spacebar to type currency or other symbols. The accent picker won't appear on mobile devices since they usually have this functionality built in: just long press a key to see a list of accents and special characters. Slide your finger to the desired character and then release to insert it. If no menu pops up, you can install a free keyboard app like SwiftKey.
What is KwizBot?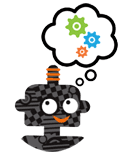 KwizBot is the friendly face of Kwiziq's A.I. Whenever you practise your French on any Kwiziq-powered website, he works on building up a picture of your French in his artificial brain. He then recommends lessons for you to study and works out what you need to practise, and he'll even send you reminder emails with selected examples in French based on what he knows about your French knowledge.
He's pretty smart, and he's getting smarter all the time. Find out more about him in our exclusive interview: Meet KwizBot.
What are Gift Vouchers?
One- and two-year certificates that you can purchase for your favorite Francophile - learn more.
Is Kwiziq available for any other languages?
Not yet, but it will be! You can sign up to be notified and even vote for the language(s) you'd like to learn: Kwiziq languages
Questions about Scoring and Levels
How does Kwiziq scoring work?
Your Kwiziq score is a measure of how confident the system is that you know something. We use a special algorithm to estimate confidence with scores ranging from -100% to 100%. See the full explanation of how the Kwiziq Scoring system works.
I get high scores on tests, so why is my Kwiziq score so low?
Kwiziq scores are not the same as test scores. You should consider a Kwiziq score above 75% very good (this is hard to achieve), but remember that our system is not an exam that you pass: Kwiziq is designed to help you increase your confidence in the language. You may need to answer questions correctly many times to prove to KwizBot that you know your onions!
When will I go up a level?
Once you've earned a silver shield (75%) at your current level. If you can't wait, you can test in the "Choose your own adventure" section and your Studyplan will update accordingly.
What are Kwiziq achievements?
A fun way to track your progress and stay motivated - learn more.
What are Brainmaps?
Interactive maps of your grammar knowledge - learn more.
How can I read my Progress Report?
Please see our detailed explanation on the blog.
Questions about Testing
What is CEFR?
CEFR, the Common European Framework of Reference for Languages, is a standard way of describing language proficiency - learn more.
Can I retake the CEFR level test?
The short answer is no. We are working on ways to reassess your level, but retaking our CEFR entrance level test is not a good idea because the test questions are fixed. It's a specially designed set of questions that aims to test your level with as few questions as possible. There are only between 8 and 18 questions asked per level and as such it can only ever be a rough indicator of your linguistic skill.
We will eventually offer more thorough level re-assessments, but in the meantime, we encourage you to take the level tests on your Dashboard. Every time you click a level test, KwizBot will design a short (usually 10-question) test for you to help you improve your skills at that level. By taking as many of these as you can, you will rapidly perfect your skills at the chosen level.
Can Kwiziq help me prepare for the AP French Exam, DELF, DALF, TCF, or TEF?
Yes! Regular testing is an excellent way to find gaps in your knowledge and improve your French in preparation for any test, so just head over to your Dashboard and get kwizzing!
We also have a series of articles offering detailed info and tips about the different French proficiency exams:
Questions about Features for Teachers
What are StudyGroups?
StudyGroups help you organise and teach groups of students with full Kwiziq A.I. support - learn more.
Do I have to be a teacher to moderate a StudyGroup?
Not at all! You can create a StudyGroup with friends, family, conversation clubs - any group of people you want to study and grow with.
Questions about My Account
Is it really free?
Yes, our free package includes 10 kwizzes a month. This is ideal for casual learners and will always be totally free. If you want to get more serious about your studies, you can upgrade to a Premium subscription.
How can I get more free credits?
Just wait until next month - learn more.
What are the benefits of upgrading?
A Premium subscription allows you to take unlimited kwizzes, which means unlimited potential to improve your French! You also get an interactive Brainmap, multiple Notebooks, and weekly French writing challenges. Take a look at our upgrade page for more info.
Also, take a look at the results of our survey of active users:

Why have my grammar emails from KwizBot stopped?
KwizBot automatically adjusts the frequency of your grammar lesson reminder emails based on how much you test:
If you test at least once every day, then he doesn't send you emails because he knows that you are looking at your grammar lessons online and have the concepts fresh in your mind.
If you go 24 hours without testing, he will send you your first reminder lesson selected from your recommended studylist. He will do this daily for a week to remind you of the different lessons in your list.
If you don't test for more than a week, he will slow the frequency to once per week, assuming that you don't have time for more study.
If you don't test for more than a month, he'll slow again to once per month.
The frequency resets whenever you test again since he knows you're back to working on your language skills.
How can I log in with Facebook or Google?
You just need to connect your accounts.
How do I change my email address?
You can change your email address by going into your account details page (log in and click your name at the top right). If you can't do this for some reason, you can email us from the original email that you registered with (we have to be sure it's the same person requesting) and we'll be happy to update it for you.
How do I change my password?
Please use the password reset function. Just make sure that your new password has at least 8 characters, including at least one UPPERCASE letter.
How do I cancel my account?
Please email us.
Other questions?
How to take a screenshot
If you have a support query you may be asked to send us a screenshot to help us idenfity the problem. Below is a list of help guides (provided by third parties) to explain the process, depending on your operating system.
After you save the image to your computer, please reply to the support request using your email client as usual and attach the saved screenshot just as you would any other file. Please make sure the url (web address) is visible on the screen shot or included in the response.
Once you've brought up the item you want to screenshot, follow the steps in the appropriate guide below.