Practise your French writing skills with our ever-growing collection of interactive French writing exercises for every CEFR level from A0 to C1! If you're unsure about your current proficiency, try our test to get your French level before diving into the exercises.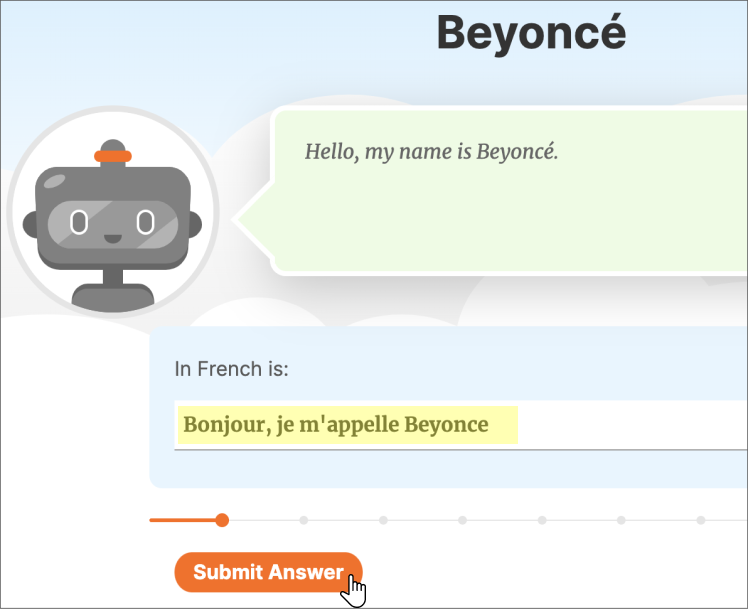 All writing exercises are made by our qualified native French teachers to help you improve your writing skills and confidence.
Kwizbot will give you a series of prompts to translate to French. He'll show you where you make mistakes as you go along and will suggest related lessons for you.
Boost your French writing skills by adding the lessons you find most interesting to your Notebook and practising them later.

Click on any exercise to get started.
---
A1: Beginner French writing exercises

A busy sea holiday [US: vacation]
Aline spends her seaside holiday [US: vacation] enjoying water sports.

A Christmas feast
Sébastien is in charge of Christmas Eve Dinner this year.

A day in my cat Max's life
Juliette tells about her cat's daily routine.

A day in the city of Le Mans
Audrey had a nice time visiting Le Mans, in northwestern France.

A day with my daughter
Marc loves spending the day with his infant daughter!

A declaration of love
Here's a lovely love letter for your French Valentine.

A dream
Geoffrey tells us about one of his dreams.

A favour between colleagues
Brigitte needs a favour from her colleague Sandra.

A French lunch menu
Here's the typical lunch menu of a French coffee shop.

A French woman
Élodie tells us about her everyday life as a lawyer specialised in women's rights.

A love letter
Thomas writes a love letter to his girlfriend Julie.

A love story
Cécile and Andrew meet in a bar.

A new bedroom for Manon
Sophie and Damien are doing some cool DIY in their daughter's bedroom.

A passion for planes
Léo's little brother loves planes.

A quiet New Year's Eve
Bastien likes spending New Year's Eve alone at home.

A rainy afternoon
Soizic and Armelle meet up on a rainy day in Brest.

A romantic Valentine
Henri tells us about his special plans for Valentine's Day.

A stylish couple
Karim describes a couple's stylish outfits.

A week of good deeds
Philippe does one good deed every day.

A week of treats
To treat her mother, Julie organises a week of Mother's Day gifts.

A winter meal
Bernard has his perfect comfort meal for cold nights.

Actress Anne Dorval
Claire tells us about her favourite actress, French-Canadian Anne Dorval.

Anne's Easter loot
Anne lists all the treats she found during her Easter egg hunt.

Annoying Things
Philippe and Julien share some of the things that really annoy them.

Anthony, hairdresser
Anthony tells us about his job as a hairdresser.

Arnaud and Ophélie describe themselves
Arnaud and Ophélie describe themselves physically.

Astérix
Learn more about this iconic character from French culture.

At breakfast
Émilie and Jérémie are having breakfast.

At midnight
Sébastien's family celebrates Christmas in the evening of the 24th.

At the airport
Louis and Lucie are about to get on a plane.

At the beach
Conversation at the beach between an ice cream vendor and a customer.

At the beach
Tom is telling us about his day at the beach.

At the bookshop
François needs help choosing a book.

At the brasserie
Eve orders food at a brasserie in France.

At the campsite
Benjamin and Thomas have just arrived at the campsite.

At the gift shop
Mike and Linda pick some souvenirs in a Montmartre gift shop.

At the newsagent's
Sophie is buying a few items at a French newsagent's.

At the sporting goods store
Alain is buying tennis equipment for his son.

Baby at the beach
Baby enjoys being at the beach with his family.

Back to School
Mathieu tells us about going back to school tomorrow.

Ball Sports
Vincent and Leila discuss their favourite ball sports.

Between neighbours
Neighbours Jules and Sarah talk about an upcoming barbecue.

Beyoncé
The famous singer introduces herself.

Board games
Jonathan is playing board games with his family.

Booking a hotel room
Pierre wants to book a room in a hotel.

Can I come?
Marie chats with her roommate's friend Damien.

Clara's list to Santa
Julien's daughter is quite exhaustive in her list to Santa this year!

Cleaning with my family
Jonathan and his family are cleaning the house today!

Colourful animals
Here's a funny and colourful story about animals.

Corsica is beautiful!
Julien explains why he thinks Corsica is so beautiful.

Do you like the French language?
Noémie and Léo have opposite opinions on the French language!

Do you like theme parks?
Louis and Zoé give their opposite opinions on theme parks.

Driving in the city
Sophie and Christophe talk about driving in city centres [US: downtown].

Easter decorations
Alice and her sister Zoé are decorating their house for Easter.

Easter preparations
Today, Daniel and his pupils are getting ready for Easter.

Émile and I
Antoine talks about his imaginary friend, Émile.

Exchanging a scarf
Christine is returning a scarf to the shop

Father of two
Léon talks about his two beloved children.

Father's Day
Sophie has a special routine for Father's Day.

Filling in a form
Olivier answers questions from a form.

First day at uni
Samuel and Gina meet at university.

Food shopping for a picnic
Daniel and Aline are buying food for a picnic.

For equality
Hadrien and Sonia explain why they're for gender equality.

Gardening with Jacqueline
Julia always loves to take care of her aunt's garden with her.

Going on a diet
Marie has a plan to lose weight this year.

Going shopping
Annie and Nicolas discuss her upcoming trip to the shop.

Hanukkah with my family
Rachelle celebrates Hanukkah with her family every year.

Happy New Year!
Paul loves celebrating the New Year.

Healthcare in France
Learn about France's healthcare system.

Hello, my name is France!
The country France introduces itself.

Hello! I'm Mario!
The famous plumber introduces himself.

Helping my neighbourhood
Noémie likes helping her neighbours after school.

Helping the planet
François does his best to help the planet in his everyday life.

How to make a cake
Brigitte is going to make a cake today.

How to stay healthy
Matthieu tells us about his healthy habits.

How to vote at a polling station in France?
Learn how to vote in a French election.

Hurray for football [US:soccer]!
Annie's brother is a big fan of football [US:soccer].

Hurray for snow!
Léo loves snow.

Hurray for the city centre!
Julien tells us why he loves living in the city centre [US: downtown].

Hurray for the internet!
Amir and Chloë talk about why they love the internet.

I hate the rain!
Annie stays in on rainy days

I love camping!
Anissa goes camping in the summer.

I love Hallowe'en!
Gabriel tells us why he loves Hallowe'en.

I, Louis XIV
The French king Louis XIV tells us about himself.

I'm hot!
Marc offers tips for dealing with the heat.

I'm Jean Valjean
At the beginning of Victor Hugo's "Les Misérables", our hero Jean Valjean knocks at a bishop's door.

In a Basque restaurant
Pascal wants to try a Basque specialty while visiting Biarritz.

In French class
Marc explains what his French lessons consist of.

In science class
Jérôme's favorite subject is science!

In the bathroom
Adrien describes his bathroom.

Job: Postman
Philippe tells us about his job as a postman.

Job: Veterinarian
What does being a veterinarian entail?

Juliette Binoche
The famous French actress tells us about herself.

Learning the guitar
Stéphane tells us about his guitar lessons.

Léna's family
Meet Léna's close family.

Mimi the mermaid
Mimi the mermaid introduces herself.

Money and me
Thibault and Flora are complete opposite when it comes to money!

Montpellier Hérault Rugby club
Martin tells us about his favourite rugby club, the MHR.

Moods and colours
Martin likes different colours depending on his mood.

Mrs Durand's Menagerie
Mrs Durand loves her many animals.

My afternoons with my friend Lise
Nora and her friend Lise have a nice Saturday afternoon routine.

My astronaut costume
This year, Hugo is dressing up as an astronaut for Mardi Gras.

My basketball team
Quentin loves his basketball team!

My bicycle ride
Bastien loves his weekend ride in the woods.

My children's Hallowe'en
Luc's children are all ready for Hallowe'en.

My cousin Benjamin
Jonathan talks about his favourite cousin.

My daughter and books
Patrick's daughter has a passion for books !

My daughter's birthday
David's daughter Émilie is turning seven today!

My daughters' interests
Samuel's daughters have very different interests!

My dog's birthday
Every year, Florian celebrates his dog Max's birthday.

My eco-friendly habits
Marc tries to help the planet in his everyday life.

My favourite instrument
Marc and Véronique tell Sabrina what their favourite musical instruments are.

My favourite season
Bertrand tells us why he prefers fall to other seasons.

My favourite summer fruit
Lucas tells what fruit he loves eating in the summer.

My favourite superheroes
Thomas talks about his favourite superheroes.

My favourite winter drink
Find out what Coline's favourite winter drink is!

My grandson
Raymond is completely gaga over his first grandson.

My hotel room
Lucas describes his Paris hotel room.

My little sister
Damien's little sister can be pretty annoying.

My neighbourhood
Antoine tells us about his neighbourhood's best features.

My New Year's resolutions
Thierry makes a list of good resolutions for the new year 2020.

My shopping list
Bertrand is getting his shopping list ready.

My sister the nurse
Laure tells us about her sister's job.

My staycation
Arthur is going to enjoy his week of staycation.

My three children
Justine tells us about her three beloved children.

My turtle Caroline
Daniel tells us about his favourite pet.

My twin daughters
Philippe tells us about his lovely identical twins Ella and Emma.

My typical snowy day
Pauline tells us what she likes to do when it snows outside.

My week of activities
Julien's week is full on activities!

Night routine before a test
Antoine's night-before-a-test routine is all about reducing stress.

No chores for me!
Teenager Lise hates doing chores.

Opposite siblings
Élodie tells us how different she is from her brother Thomas.

Portrait of a cat
Marcel the cat is talking about himself.

Profession: Journalist
José tells us about his job as a journalist.

Quebec City
Olivia loves living in Quebec City.

Radio news bulletin
Here is a short news broadcast.

Speed dating
Claudine and Marc get acquainted during a speed dating session.

Summer food and drinks
Léa asks her friends what they like to eat and drink in the summer.

Thanksgiving with family
James tells us about his Thanksgiving traditions.

The driving licence test
Véronique is taking her driving licence exam.

The Hobbies Family
In Raphaël's family, everyone has a different hobby!

The woman on the train
Every morning, Lisa sees this woman on her commuter train.

Tips to fight the cold
Barnabé is very sensitive to cold, but luckily, he has lots of coping mechanisms!

To buy a train ticket
Thomas is buying a train ticket at a French train station.

To get to the train station
Arnaud asks a passerby for directions to the train station.

Toulouse's specialties
Marius and Anaïs talk about the Southern city's delicious specialties.

Visit to A&E [US: the ER]
Lucie talks to a doctor at the hospital.

Visiting Orléans
Matthieu asks for recommendations for his first time visiting Orléans.

What is Francophonie?
Damien explains what francophonie is.

What's your favourite artistic activity?
Nora and Lucien share their favourite artistic activities.

When I'm sick
Julien tells us what he does when he's ill.

Where is the town hall?
James asks Mélanie for directions.

Which French king am I?
This mysterious French king tells us about himself... do you recognise him?

Why do I love the Alsace region?
Sébastien tells us why he loves this French region.


A2: Lower Intermediate French writing exercises

A Creole picnic
During a visit to La Réunion, Julie and Léo went for a typical Creole meal.

A day with Grandad
Bastien went to visit his granddad at his retirement home.

A family of dog lovers
Anthony had many dogs growing up, but Pip was special.

A few days in Dordogne
Monique tells Patrick about her coming holiday [US: vacation].

A football accident
Anthony had his friend Bruno over to play...

A great party for Mum [US:Mom]!
Manon and her sister Aline treated their mother for Mother's Day.

A great weekend
Henri had a lovely weekend.

A Hallowe'en party
Amélie's guests are having a Hallowe'en blast!

A holiday [US:vacation] letter
Jacqueline writes about her holiday [US: vacation] to her friend Patricia.

A love for teaching
Damien's passion for teaching started early.

A new mother
Rachelle and her boyfriend had to learn how to take care of their baby.

A new TV
Sébastien tells Yvan about the TV he just bought.

A nice train journey
Lucie and her boyfriend Marc went to the countryside by train this weekend.

A noisy hotel room
Bertrand complains to the hotel reception about noises during the night.

A nostalgic walk
Bernard's neighbourhood has changed a lot over the years.

A romantic trip to Paris
Anna took her boyfriend on a romantic trip to Paris.

A romantic weekend away
Aline and her boyfriend went away for a relaxing weekend.

A sleeper's story
Amélie used to be a real sleepyhead.

A Thanksgiving gift
Tammy's family prepared a Thanksgiving meal for a less fortunate family.

A week of beach activities
Oriane spent the week enjoying beach sports and activities.

A weekend of chores
Romain and his wife Sabine spent the weekend doing chores.

Afternoon ice cream
Lucie and Greg feel like an ice cream this afternoon.

An Italian holiday [US: vacation]
Julia's girlfriends went on an Italian holiday [US: vacation].

Apple tart
Bruno helped his aunt make her famous apple tart.

Arriving at the hotel
Aline checks into her Parisian hotel.

At a Fatals Picards concert
Julien and his friend Matthieu went to see the French band Les Fatals Picards on stage.

At my best friend's wedding
Patrick gives a toast at Stéphane's wedding.

At the allergist's
Pierre went to the allergist to get a diagnosis.

At the bar
Au bar Patricia and Samuel discuss what drinks they want to order.

At the bureau de change
Patrick needs to change some dollars upon arriving in Paris.

At the Chinese restaurant
James is ordering food in a Chinese restaurant.

At the cinema
Thibault and Aïssa enjoy an evening at the movies.

At the grocery store
Julie and Frank need some things from the grocery store.

At the gym
Hélène is looking to join some classes at her gym.

At the medieval market in Orléans
Flora and Sami enjoy Orléans's medieval market.

At the mountain restaurant
Gérard and Sylvie stop for lunch after their mountain hike.

At the nail salon
Barbara is at the nail salon.

At the post office
Christophe has a few errands to run at the post office.

At the shoe store
Christine is looking for a pair of shoes with the help of a nice sales assistant.

At the till [US: cash register]
A customer is offered the shop's loyalty card.

Bastille Day in the South of France
Bernard tells us about celebrating Bastille Day last summer.

Bedtime stories
Florian remembers the bedtime ritual he had with his daughter.

Breakfast in the sun
Sabrina surprised Thomas with a nice breakfast on the balcony.

Calling the hotel's room service
Valérie calls room service from her hotel room.

Camille Cottin
The French actress introduces herself.

Chocolate mousse cooking tips!
André gives us some tips to make the perfect chocolate mousse.

Chocolatier Amaury Guichon
Inès introduces Thibault to the famous pastry chef and chocolatier.

Conversation on the plane
Pascal and Julie get acquainted on a flight to Montpellier.

Cooking as a family
Yesterday, Antoine and his family made tartiflette together.

Dividing the restaurant bill
Isabelle and her friends are splitting the bill at the restaurant.

Do you have a favourite male singer?
Simone and Amélie are talking about their favourite French-speaking male singers.

Do you have any dirty clothes?
Bastien and his mother debate the need for a dirty laundry basket.

Drawing a face
Teacher François asks his pupils to draw a face.

Driving in France
Here are a few things to be aware of when driving in France!

Easter in France
Learn more about how French people celebrate Easter.

Finding a Father's Day present
Louna and her brother Nassim went shopping for Father's Day.

Fireworks
Juliette went to watch New Year's fireworks yesterday.

First Christmas
This year was baby Tristan's first Christmas.

First visit to the vet
Sébastien's cat just gave birth to four little kittens!

Fishing with Dad
Benjamin went fishing with his father last Sunday.

From the city to the countryside
Marie decided to leave Paris to live in the countryside.

Gardening : yes or no?
Thibault and Cécile gives their differing opinions on gardening.

Getting to know each other
New colleagues Julien and Olivier get to know each other over a coffee.

Giving up tobacco
Amélie has stopped smoking and she's so happy about it!

Gwoka: Guadeloupe's music
Learn about Guadeloupe's traditional music.

Holiday [US: Vacation] by the sea
Édouard remembers his childhood seaside holidays [US: vacations] in the south of France.

I love autumn!
Jacqueline tells us what she loves to do in the fall.

I love my grandmother!
Lucas tells us about his lovely grandmother.

I love the mountains!
Gilles shares why he loves going to the mountains more than going to the seaside.

I prefer going skiing
Pierre tells us why he prefers going skiing rather than beach holidays.

In a taxi
Magalie needs her taxi to take her for a few errands.

In the changing rooms
Mélanie is trying on a dress... and testing Pierre's patience!

Instagram love
Julien and Sandra became famous thanks to their Instagram account.

Instructions for a test
Teacher Marc read out the instructions for today's French test.

It's not my fault!
Teacher Émilie lists her students' funny excuses.

Jacques Brel
Gaston is a big fan of the Belgian singer-songwriter.

Jojo is such a joker!
Thomas talks about his school friend Jojo, who loves a joke.

Last night's party
Pauline and Adrien discuss yesterday's party at Thomas's house.

Les Sables-d'Olonne
Julien enjoyed his stay in the seaside town of Les Sables-d'Olonne, in the Pays de la Loire region in France.

Lockdown solidarity
Clément and his neighbours organised to help each other.

Making Halloween decorations
Elsie and her mother are making some spooky Halloween decorations.

Mister Snowman
Mister Snowman was born this morning.

Mother's Day presents
Eve and Ornella compare their Mother's Day presents.

Movie Date
Luc was nervous for his first date with Belinda.

Movie night at home
Pauline and Alex are getting ready to watch a movie at home.

Moving in: Calling the electric company
Bruno sets up the electricity account for his new place.

Muscle ache
Viviane tells her friend Jérôme how going back to the gym left her pretty sore!

My afternoon at the funfair
Sébastien spent last Saturday afternoon at the funfair with his friend Matthieu.

My breakfast habits
Sophie's breakfast habits have changed quite a lot over time.

My children's after-school activities
Marc's children have picked their after school activities for this year.

My cousin and her accordion
Aurélie's cousin Lyse plays the accordion.

My dad is the best!
Colette talks about her father and how kind he is.

My driving licence [US: driver's license]
Jean-Pierre is taking his driving test tomorrow.

My electric car
François is really happy to have bought an electric car, despite a few disadvantages.

My favourite team won!
Yesterday, Anna celebrated her team's victory.

My favourite work of art
Stéphane asks Isabelle, Clémence and Benjamin about their favourite works of art.

My gratitude journal
Benoît gets a lot out of his gratitude journal.

My Hallowe'en costume
Daniel tells us how hard it can be to pick one's Hallowe'en costume.

My head in the stars
Thomas has always had one passion: the stars.

My kids' letter to Santa
Julia's twins wrote their first letter to Santa.

My name is Tintin!
Famous reporter Tintin introduces himself.

My trips to the swimming pool with my daughter
Brigitte fondly remembers her weekly trips to the swimming pool with her young daughter.

My weekend with Mum [US: Mom]
Claire spent quality time with her mother last weekend.

My weekend's activities
Éric tells us how the weather affected his weekend's activities.

My weekends with Dad
Alexandre remembers the getaway weekends he used to spend with his father.

My work experience placement
Thomas worked in an office as part of his work experience placement.

Napoleon, a Corsican emperor
Did you know that French emperor Napoleon was from Corsica?

New Year's celebrations in Belgium
Magalie discovered a few Belgian traditions when she spent New Year's there.

New Year's plans
Yann and Paul are discussing their plans for New Year's Eve.

On the first floor of the Eiffel Tower
Visitors Jenny and Sam chat on the first floor of the famous Eiffel tower.

One day in Father Christmas's workshop
Let's peek through the window to see what the elves are doing.

Organising my desk
Julie got her desk ready to go back to school.

Our new family member
The family is growing bigger with the arrival of Minette, our new cat.

Paying bills
Roommates Émilie and Judith discuss bills.

Phone call from the bank
Mr Dupuy gets a phone call from his bank.

Picking an outfit
Emma is choosing an outfit with the help of her friend Lucie.

Playing with my boys
Romain likes spending time with his sons.

Postcard from Vendée
Juliette writes a postcard from the Vendée region in France to her best friend Matt.

Quitting a job
Michelle had had enough of her boss's disrespect.

Reading "The Lord of the Rings"
Baptiste remembers the first time he read Tolkien's masterpiece.

Saïd Taghmaoui
Learn about this famous French-Moroccan-American actor.

Salad Niçoise recipe
Babette teaches us how to make a salad Niçoise.

Segway in the park
Noémie and her friend Manon went for a Segway ride in Versailles's royal gardens.

Studying abroad
Daniela shares her experience studying abroad for a year.

Switzerland
Learn more about this Francophone country.

Taking Grandma phone shopping
Marielle took her grandmother to buy a mobile phone.

Tent or camper van?
André and Yann discuss their camping preferences.

The birth of my son
Geoffrey remembers the first time he saw his son.

The Grund neighbourhood in Luxembourg City
Joséphine tells us about her favourite area in Luxembourg City.

The LU Tower in Nantes
Romain visited the famous former biscuit [US: cookie] factory in Nantes.

The new menu at the Bistro du Soleil
Julien was happy to discover the Bistro du Soleil's new menu.

The perfect couple
Marielle tells us why she thinks that Marc and Julien are the perfect couple.

Tom's first day back to school
Émilie tells us about her son Tom's first day of school.

Two great museums in Nice
Barnabé tells Hélène about his visits to the Chagall and Matisse museums in Nice.

Visit of Marseille
Gaspard spent the weekend in Marseille, France.

Visiting Toulouse
Bastien and Léa enjoyed their visit of Toulouse's historical centre.

Weather forecast
Here's a French weather forecast.

Weekend in Lyon
Vincent tells us about the weekend he spent in Lyon with his cousin.

Welcome to the Sticks
Mickaël learned a lot from this funny French comedy.

What a change!
Émilie moved from a small village to Paris, and that's a big change!

What do you want to watch?
Grégoire and Inès decide what they want to watch on TV.

When I became a vegetarian
Geoffrey tells us about his journey becoming a vegetarian.

Who am I?
Guess who this important figure of the French Resistance is.

Who is this writer ?
Guess who this (male) French writer is!

Why I learned German
Sabrina tells us why she first decided to learn German.

Why study French?
Hugo gives us his reasons to pick up French again.

Working from home - an opinion
Patrick tells us about trying WFH a few months ago.


B1: Intermediate French writing exercises

A childhood passion
Vincent and his brother loved video games growing up.

A dinner invitation
Sabrina invites her friends Louise and Manon to dinner.

A family day at the park
Benoît will spend this Saturday at the park with his daughter Mia.

A friend's apology
Gaston apologises for hurting his friend Miriam.

A game of hide and seek
Linda and Christian are watching from afar a game of hide and seek between the children.

A gem of a restaurant
Gilles and his wife Martine discovered a little Italian restaurant in town last weekend.

A greener future
Julien is seeing a future where people are more eco-conscious.

A Horror Story
On a dark October night, Emma received a disturbing call...

A luxury holiday [US: vacation] with friends
Alain has the perfect luxury holiday [US: vacation] planned for when he wins the lottery!

A special Monday
Anna is looking forward to a lazy Easter Monday!

A strange encounter
Yoann had the strangest encounter in the Broceliande forest!

A trip to the cinema
Antoine and his daughter Emma are planning a trip to the movies.

A weekend in Montpellier
Élise and Lucas plan their weekend in the southern French city.

A wonderful job
Guillaume loves his job as an A&E [US: ER] doctor.

An afternoon in the fall
Zoë is planning to meet her friend Quentin for a nice October afternoon.

An amazing New Year's Eve meal
Henriette is planning a dazzling meal for New Year!

An annoying cat allergy
Éloïse suffers from an annoying cat allergy.

An awful new boyfriend
Grégory finds his aunt's new boyfriend quite repulsive!

An incredibly caring boy
Lydia's son, Olivier, is such a caring person.

An old scary tradition
Yoann recalls celebrating the old Celtic tradition of Samhain with his Gran.

An opinion on football [US:soccer]
Théo has a nuanced take on football [US:soccer].

Anger management
Lucie talks about her techniques to manage her anger.

Animal emergency
Julien's cat is stuck in the tree!

Around the world by motorcycle
Joël would love to travel the world on his motorcycle.

Asking about a hotel room
Catherine has a few questions about the hotel room she's booked.

At the amusement park
Thomas will go to the amusement park with his friend Samia for their birthday this year.

At the coffee machine
Cyril, Pauline and Eve catch up by the coffee machine on Monday morning.

At the doctor's
Robert goes to the doctor for a consultation.

At the patisserie
Daniel needs a special cake.

At the till
Peter is at the till [US: cash register] of a French supermarket.

Back pain
Flora tells the doctor how she hurt her back.

Beatrice's baby shower
Emma and her sister organised their cousin's baby shower.

Becoming an astronaut
Élodie dreams of becoming an astronaut.

Belgian food facts
Discover some interesting food-related facts about Belgium.

Birthday makeover
"New year, new me" Julia thought on her 20th birthday.

Busy Schedule
Isabelle recaps what everyone will have to do on Saturday!

Camping at home
Gabriel and Rose are making plans for the weekend.

Cancelling a purchase
Justin calls Bokado's customer service to cancel his order.

Cathy's future holiday [US: vacation] in Montpellier
Learn about Cathy's plan to spend her holiday [US: vacation] in Montpellier.

Choosing a travel pass in Paris
Susan needs (travel) tickets to visit Paris.

Christmas at my parents' house
Quentin spent a classic Christmas with his parents.

Christmas in the mountains
Antoine will spend Christmas at his dad's house in the Alps, if he can get there!

Christmas specialities
Paul tells us about some traditional French Christmas dishes.

Conversation between the election's two rounds
Marc explains the French presidential election process to his friend Alice.

Corsican polyphonic singing
Do you know about this bewitchingly melodic tradition from Corsica?

Credit card fraud
Josiane calls her bank about a suspicious transaction.

Cycling in Nantes
Isabelle agrees with Nantes's status as France's "cycling capital".

Dalida
Learn about Dalida, an iconic French-speaking singer.

Dealing with your emotions
Here's a guide to keeping calm.

Discussing a ski weekend
Laurent and his friend Matt are planning their ski weekend.

Dreaming of Paris
Grégory imagines his ideal Valentine's Day's proposal.

Family holiday car trip
Let the squabbles begin!

Flying anxiety
Jean-Luc has a plan to deal with his fear of flying.

Following the GPS
Follow this GPS's instructions to reach your destination.

François Damiens's hidden camera videos
Philippe and Anissa talk about their favourite hidden camera pranks by François Damiens.

Getting ready for autumn
Rosalie won't get caught out by the arrival of autumn this year.

Giving up smoking
François tells us how he managed to stop smoking.

Going back in time
Marine asks Amanda, Bruno and Sébastien what they would do if they could go back in time.

Going to the bank
Flora and her father need to go to the bank.

Guadeloupe's Carnival
Discover this colourful Guadeloupe tradition.

How do you like to keep up with the news?
Vanessa and Ludovic tell us how they stay informed.

How to share household chores equally
Follow Céline's tips to share household chores more equally.

I love swimming!
Thomas tells us about his love for swimming and his hope to one day dive from up high!

I miss French food!
Hélène tells Betty how she's coping with missing French food abroad.

I want to help!
Suzanne wishes she had more time to help others.

I, Lucky Luke
Christophe imagines what he would do if he were the fastest shooter in the West.

I've always loved French
Emily has always had a fascination for the French language.

If I could be a child again
Laurent would love to be 10 again.

If I could start over...
Anne wishes she could do things differently.

If I were a chef
Benjamin tells us of his dream of being a chef.

If I were Céline Dion
Ornella imagines what it would be like to be the French Canadian star.

If I were Wonder Woman
Annie imagines what it would be like to be Wonder Woman.

In the changing rooms [US: locker rooms]
The guys are chatting after football [US: soccer] practice.

Interview with a jewellery creator
Hugo is interviewing Marie who creates her own jewellery.

Ivory Coast: a destination like no other
Find out why Ivory Coast is such an amazing holiday [US:vacation] destination.

Learning to read in French
David talks about how he learned to read fluently in French.

Let's go back to the gym!
Olivier and Victoria discuss going back to the gym after the winter.

Liberty, Equality, Fraternity
Learn about the origin of the French Republic motto.

Lighthouses in Brittany
Learn about the beautiful lighthouses you can find in Brittany.

Lockdown shopping
Marguerite's Christmas shopping habits will be a bit disrupted this year.

Looking for a new house
Sébastien and Éric are looking at real-estate listings.

Looking for my phone
Jonathan lost his phone on the train...

Lyon saucisson
Learn about Lyon's famous pork sausage and how best to enjoy it.

Making friends online
Find out how Mary made new friends online

Marseille's famous people
Louis and Emma talk about their favourite celebrities from Marseille.

Message to my granddaughters
Grandmother Viviane has a message for her beloved granddaughters.

My brother and his wife
Marielle tells us about her brother's great relationship.

My European trip
Jonathan is planning a mini tour of Europe for next year's holiday [US: vacation].

My family's breakfasts
Sébastien tells us about his family's different breakfast routines.

My favourite things at Easter
Alain talks about the things he loves about this time of year.

My Hallowe'en
Like every year, Bastien will spend Hallowe'en with his nephews.

My ideal day
Anna tells us how she would spend her ideal day.

My ideal garden
Flora imagines her perfect garden.

My ideal person
Cédric imagines his ideal partner.

My love for museum gift shops
Laurent loves museums, and their gift shops even more!

My neighbour from Hell
Julie's neighbour, Sonia, is pretty terrible!

My new flat [US: apartment]
Franck is moving soon into a much nicer flat [US: apartment]

My next holiday [US: vacation]
François has his holiday [US: vacation] to Canada well planned!

My post-university plans
Antony wants to move to Paris after his studies.

My Provence dream
Juliette dreams of what life would be like if she lived in Provence.

New in town
Caroline writes in her diary about her plans to make new friends in a new town.

New recruit
Antoine sums up his first two months in the company.

New year, new resolutions
Séverine and her friend Maya discuss their future New Year's resolutions.

Next summer in Paris
Sabrina will visit her friends in Paris next summer.

On the phone to Grandma
Jeanne calls her grandmother to catch up.

Our Halloween costumes
Lisa and her friend Olivier discuss what they'll wear for Halloween.

Our next family reunion
Sophie can't wait to see her family again.

Our Parisian holiday
Anthony has his Paris holiday all planned out.

Our plans for Music Day
Sabine and Thomas discuss their plans to celebrate Music Day on June 21.

Picking our wedding flowers
Perrine has opted for a country-style wedding, with matching flowers.

Police check
Janine is stopped for a routine police check.

Ready for Easter
Christine and Baptiste discuss their plans for Easter.

Ready for school?
Lisa and Jonathan discuss their kids' state of mind before going back to school.

Ready for the zombie apocalypse
Sébastien explains how he and his friends will deal with the imminent zombie apocalypse.

Sailing in the Caribbean
Patrick and Sébastien are planning a sailing tour of some of Caribbean islands.

Selfies
Marc considers the photographic phenomenon of the selfie.

Selling stamps
Christophe needs help to sell a stamp collection.

Spanish cooking
Jean-Luc cooked a Spanish meal for his friends, with mixed results!

Splitting the bill
Lisa, Julien and Manon have to split the bill at the restaurant.

Squabbling Sisters' Scrabble
Maya and Liane are arguing while playing Scrabble.

Studying abroad
Louis decided to go study abroad next year.

Studying for an exam
Julie, Matthieu and Laurent discuss their revision strategies.

Studying programme
Jérôme and Thomas have a plan to study for their end-of-semester exams.

Surfing in Biarritz
Milo and Stéphane talk about going surfing in Biarritz.

Synchronised swimming
Frank would love to join a synchronised swimming team.

Table for one
Kelly is trying her luck for a table at a restaurant.

The 8 skittles game
Learn about this French version of a classic sport.

The best carnivals in the world
Simon asks Mathieu and Lydia what carnival they'd love to go to.

The best concert ever!
Laura tells us about the great concert she went to yesterday.

The brass band
Alice can't wait to go and see the brass band on Sunday!

The Cirque of Mafate in La Réunion
Find out about an exceptional place to visit on Réunion island.

The manga phenomenon in France
Learn more about French people's love for these Japanese comics.

The new dad
Christophe wants to share so much with his newly born daughter.

The play
Lucie just joined an after work drama class.

The pleasure of traditional mail
Coralie has always loved sending and receiving letters.

The power of love
Gaspard became a new man when he fell in love.

The year of the Baccalauréat
Laurent is planning the year ahead to prepare his end-of-high school exams.

Travel money in France: what to do and not to do
Listen to Marc, a travel expert, tell people about travel money on a radio show.

Trip to Paris
Mélanie's sister and her husband went to Paris last year.

Trip to the theatre
Thierry went back to the theatre last weekend.

Two model daughters
Marina and Louise are on their best behaviour to convince their parents to let them go out.

Visit to the Chocolate Fair
Vincent and his familly will go to the Paris Chocolate Fair this year.

Watching the Olympic Games
Bruno and Flora like following the Olympics.

What I love about my partner
Adèle talks about her partner's best features.

What literary hero would you be?
Michel and Lisa discuss what character from a novel they'd like to be.

When I'm retired
Bernard tells us what he'll do once he retires.

Which band to see?
Sabrina and Angélique are deciding which band they want to go see next.

Winter weather forecast
Tomorrow's weather forecast is very wintery.


B2: Upper Intermediate French writing exercises

"Amélie": my favourite film!
Lisa explains why "Amélie" is her favourite film.

"Vernon Subutex" - an opinion
Carole tells us why she loves the first volume of Virginie Despentes's trilogy.

(Scary) Bedtime stories
Jasmine talks to her partner Nicolas about the type of bedtime stories he is telling their son.

A busy weekend ahead
Olivier sums up his busy schedule for the weekend.

A day in the countryside
Marie spent last weekend in the countryside with her daughters.

A great passion for reading
Florence talks about her grandmother's passion for books.

A History of French TV
Learn some interesting facts about the beginnings of French TV.

A little lost dog
Sébastien helped a lost dog find his home.

A networking New Year's Eve
Jacques has to go to a networking party for work on New Year's Eve.

A nice morning surprise
Lucie will serve a delicious breakfast in bed to her fiancée on their anniversary.

A nice table "à la française"
Jacqueline explains the intricacies of setting the table the French way.

A nightmare journey
Josiane and Robert explain why they're an hour late to their friends' place.

A perfect interview
Léo's just had the best job interview of his life!

A professional phone call
Sonia Martel is talking to M. Delarue's executive assistant.

A slippery drive
Richard struggled to get to work this morning: everything was frozen!

A surprise gift
Gaspard remembers a special gift he made for his mother when he was a boy.

A year full of changes
Annette reflects back on the last year and its ups and downs.

Ahmed the elephant : an Ivory Coast story
Discover the heartwarming true story of Ahmed the elephant.

At the dry cleaner's
Eric brought his favourite suit jacket to the dry cleaner's.

At the football [US: soccer] game
Henri took his dad to a football [US:soccer] game for Father's Day.

At the garage sale
Patrick explains to Amelle how to find bargains.

At the neighbours' house
Véronique and Bruno are at their neighbours' house for an aperitif.

At the repair shop
Sabrina needs help with her laptop.

At university
Léa and Laura bump into each other at their new university.

Autumn/Winter 2020 trends
Discover the Autumn/Winter 2020 fashion trends.

Bad Movie Review
Bernadette delivers a scathing movie review.

Barbara
Laëtitia talks about her passion for fascinating French singer Barbara.

Bastille Day in France
Mathilde remembers how she used to celebrate Bastille Day with her family.

Bayonne, France's chocolate capital
Learn why Bayonne is considered the French capital of chocolate.

Bouldering in Fontainebleau
Irène loves spending the day rock-climbing in Fontainebleau.

Brasserie La Coupole
Vincent always eats here when he's in Paris.

British National Museums
National museums are free in the UK, as Paul happily found out.

Building a snowman
Martine and Bastien enjoyed building a snowman.

Camping with your dog
Patrick gives us some advice on taking your dog camping with you.

Car breakdown
Julien's car broke down at the most inconvenient time.

Catherine Ségurane: a local heroine
Toni, a tourist guide from Nice talks about local legend Catherine Ségurane.

City vs dog poop
Alain and Pauline discuss the city's measures to fight against dog waste.

Composting is awesome!
Elsa explains composting to her friend Pierre.

Congratulations on your degree!
Thomas's aunt and uncle send him an email to congratulate him on getting his Master degree.

Conversation between friends
Friends Simon and Isabelle are catching up.

Couples' annoying habits
Olivier gets so annoyed by the way couples behave sometimes!

DIY with Dad
Émilie loved spending time in her father's shed.

Extreme cosmetic surgery
Anella had several operations to look like her idol, the Barbie doll.

Family Reunion
At a family reunion, Lea sees her aunt Patricia for the first time in years.

Fatherly pride
Luc is so proud of his daughter's stage debut.

Fighting lockdown blues
Samia did everything she could to cheer up her grandmother Janine during lockdown.

Finding the perfect anniversary gift
Jean-Paul is listing his gift ideas for his wife on their anniversary.

First night out after Baby
Romane couldn't wait to go out with her girlfriends again!

French Easter specialties
Discover some of France's regional Easter specialties.

French-style lemon tart recipe
Follow the recipe to make a delicious lemon tart.

Garip Ay's amazing paintings
Jean-Pierre tells us about the work of this fascinating Turkish artist.

Getting ready for the holiday [US: vacation]
Bastien and Alicia are getting ready for tomorrow's departure.

Giving back
Especially during the holiday season, it's good to give back to those less fortunate than us...

Going lily-of-the-valley picking
Jean-Pierre's family goes to pick lily-of-the-valley every year.

Happy Father's Day!
Sabrina has prepared the perfect Father's Day for her dad.

Heatwave
A weather forecast on one of the hottest days of the year.

High cost of cigarette packaging change
Learn about the cost of the new policy on cigarette packaging in France.

Holiday [US: Vacation] in French-speaking Switzerland
Irène tells Jules how delighted she was by her trip to French-speaking Switzerland.

Holidaying abroad: pros and cons
Sébastien weighs up his pros and cons of going abroad for the holiday.

Horse riding on the beach
Iris discovered the joy of horse riding by the sea.

How I met your mother
Julien tells his children how he met their mother Émilie.

How to become an official candidate in the French presidential election?
Learn about the French electoral process to become a presidential candidate.

I can't find my shirt!
Claire and Julien are almost ready to go out...except for Julien's missing shirt!

In a clothes store
Patrick complains to the sales assistant about a defective item.

In the return taxi
Aline talks about her trip with the taxi driver on her way back to the airport.

In the woods with my dog Ulysse
Gaëlle enjoys her walks through the woods with her dog Ulysse.

Jean-Pierre Bacri
Yann and Élodie loved the great French actor who passed away in 2021.

Living abroad
Bastien thinks that living abroad can only enrich one's life.

Lockdown letters
Alexandre has been sending letters to his grandmother during lockdown.

Long time no see!
Marina and her cousin Tom catch up after quite a while.

Louise Bourgeois
Marie-Claire tells us about her favourite French artist.

Mice invasion
Lisa and Paul are discussing options to get rid of Lisa's mice.

Moving house chores
Sophie had so many chores to do before moving into her new apartment.

My car is a real beater!
Yann's car has so many problems!

My chosen family
Magalie found her own loving family.

My dream invention
Sonia asks Sylvie what invention she'd dream to see becoming a reality.

My first Easter memory
Alexandre remembers the first time he went egg hunting.

My grandmother's rosebushes
Lucie tells us about her grandmother's beloved and renowned rosebushes.

My hot-headed nephew
Michel talks about how his nephew used to get on his nerves.

My kids' back to school day
Claire is getting ready for the kids' first day back to school.

My life is a hashtag
Sébastien explains why hashtags are so important in his life.

My mother's favourite singer
Patricia tells us about her mum's passion for French singer Serge Lama.

My passion for French cuisine
James presents some of the reasons why he loves French cooking.

My plan for the day of my exam
Viviane has perfectly planned for her exam day.

My sense of direction
Joseph and Sabrina discuss their more or less deficient sense of direction.

My sister the future pianist
Lucas's sister has always dreamed of playing piano.

New town, new friends
Laurence wants to help her daughter make new friends in their new town.

New vs old technologies
Enzo asks retiree Gertrude her opinion on new technologies.

New wallpaper in the dining room
Josiane explains her choice of new wallpaper for the dining room.

Nostalgia: pros and cons
Noémie and Alain discuss the pros and cons of nostalgia.

Nudist beaches in France
Discover some of France's nudist beaches.

Oceanopolis is great!
Céline tells you about her visit to the ocean discovery park in Brest, Brittany.

On the terrace of a fancy restaurant
Jean-Luc and his fiancée are enjoying a meal on the terrace of a fancy restaurant.

On Valentine's Day, beware of faux pas!
Henri gives us tips to pick the right Valentine's Day's present.

Our "grown-up" hobbies
Viviane and Luc tell us about their respective hobbies: adult colouring and homebrewing.

Our camper holiday [US: RV vacation]
Élodie and her cousin Sarah had the best time on their camper holiday [US: RV vacation].

Our holiday [US:vacation] in Wallonia
Daniel and Claire are planning their visit to Wallonia [re: French-speaking Belgium].

Our new house's renovations
Jacques and his partner Louise are planning their new house's renovations.

Our plans for Valentine's Day
Barnabé and Samia discuss their Valentine's Day plans.

Pears in red wine and cassis
Here's chef Paul Bocuse's famous (and delicious) "Poires à la Beaujolaise" recipe.

Planning a camping trip
Patricia and Alexandre are planning their camping weekend.

Playing video games
Quentin and Lise are playing a racing video game together.

Pre-date stress
Luc was really nervous last week ahead of his date with the amazing Olivia !

Public Transport
François discovered the joys of public transport when moving from a small village to Paris.

Rebooking a flight
Patrice calls Easyplane to postpone his flight.

Robbery at the bakery
Here's a local news article about a robbery.

Saving up for Christmas
Nadia has a plan to save money until the Holidays.

Sorting out my office
Jean-Pascal's office needed a good clean.

Stendhal syndrome
Learn more about this fascinating, if controversial, affliction.

Strasbourg's Christmas Market
Olivier tells us about one of the most magical Christmas markets in France.

Thanksgiving celebrations
Adam and his friends are making their own Thanksgiving dinner this year.

The adventures of Fantômette
Nadia has always loved the character of Fantômette!

The Alsace wine route
Henri is finding out about Laura's trip to Alsace.

The Appeal of 18 June 1940
Discover the historical context around Charles de Gaulle's most famous speech.

The benefits of yoga
Discover a few of the many benefits yoga can bring into one's life.

The best hotel booking
Olivier had the most amazing hotel experience!

The mental load
Emma explains how the bulk of household organisational tasks tends to fall on women's shoulders.

The Nice Carnaval
Guillaume plans on going to the famous Nice Carnaval this year.

The Paul Bocuse Institute in Lyon
Marie's son dreams of studying at this world-renowned French cooking school.

The Ritz hotel in Paris
Learn about one of the most iconic hotels in Paris.

The worst holiday [US: vacation] ever!
Amandine tells us about her very disappointing holiday [US: vacation]!

Thomas Pesquet
Learn about France's most famous astronaut.

Train mishap
Lisa missed her stop on her way to work!

Trouble on the way to holiday [US: vacation]
On the road to go on holiday [US: vacation], Christophe and Laure's car engine overheated.

Two tourist destinations
Béatrice and Simon are discussing two different places to visit in France.

Visit to Disneyland Paris
Tristan can't wait to visit the famous theme park for the first time!

Visiting my best friend
Juliette wants to visit her best friend Pierre who moved away last year.

Water damage
Noémie and Samuel investigate a water leak in their flat [US: apartment].

Welcome to Bordeaux's Tourist Office
Bordeaux's Tourist Office introduces us to the city's best touristic attractions

What is joual?
Learn about this typical French Canadian way of speaking.

What monster would you be?
Suzanne asks David, Agathe and Hugo what monsters they'd like to be.

What to get Mum [US Mom]?
Daniel and his girlfriend Olivia decide what to get his mother for her birthday.

Where to study
Italian student Mateo finally picked the country where he wants to study.

Women's vote in France
Catherine and Blanche tell us about the first time they were allowed to vote in 1945.

Workaholic's back to work
Arthur hates time off and can't wait to be back at work!


C1: Advanced French writing exercises

A bad matchmaker
Sophie tells us about her failed attempt at matchmaking.

A birthday party
Nicolas has planned a birthday party full of games for his daughter Flora.

A chilling story
A young couple had just moved into a huge manor...

A couple's ups and downs
Hélène explains how she and her partner managed to navigate out of a rough patch.

A difficult sibling relationship
Yvan has always had a fraught relationship with his sister.

A dissatisfied customer
Monsieur Dubois writes to complain about not receiving an order.

A dreadful teenager
Philippe recalls his bad behaviour as a teenage boy.

A drunken evening
Christophe had quite an eventful evening!

A ghost story
Hugo is visiting his mother on All Saints' Day.

A hard time at work
Érica went through a rough time at work.

A last minute request
Isabelle's colleague keeps making her miserable...

A lovely car
Find out about Michel's beloved 2CV car.

A lovely encounter
On her daily walk, Audrey met a furry little friend in need of help...

A snow storm to remember
Lily recalls last year's snow storm.

A special Christmas in Switzerland
Damien recalls a wonderful family Christmas holiday in Switzerland.

A sudden reappearance
After years of disappearance, Olivia's friend is back.

A wedding proposal
David tells us how he planned to propose to his girlfriend.

Advice for new pet owners
Laurent asks people for their advice on welcoming a new pet at home.

Alberto Giacometti
Jean-Louis and Samuel discuss the famous Swiss artist.

Alice and the Caterpillar (Alice in Wonderland)
Alice meets the mysterious Caterpillar in this adapted excerpt from "Alice in Wonderland"

An animal tale
By a lovely winter morning, Henri the hare meets poorly Lili the rabbit.

An incredible trip on the Canal du Midi
Patrice recalls his trip along the Canal du Midi.

An upcycling tutorial
Find out a few ideas for your upcycling projets.

Anna's birthday party
Clément discusses the organisation of his daughter's birthday party with his friend Charlotte.

Anne of Brittany
Learn about the extraordinary woman who was crowned Queen of France twice.

At the psychiatrist's
Mme Dupont is talking to her psychiatrist.

At the ski resort
Paul needs to get ski gear for himself and his family.

At the water park
The whole family is having a good time at the water park.

At Uncle Robert's 70th birthday
Laura catches up with her cousin Charlotte at a family event.

Back to School shopping
Viviane and Christian try and get everything on their children's school supply list.

Bathroom chat
Bruno and Sonia are having a chat in the bathroom.

Brest during World War II
Alex is talking about WWII in Brest with his granddad.

Californian dream
Olivia finally followed her dream to move to California.

Camping in the woods
Nathalie enjoys camping in the middle of the woods.

Coco Chanel
Learn about this extraordinary woman who became a fashion icon.

Complaining about a hotel room
Gérard complains to the receptionist about the state of his hotel room.

Coping with the heatwave
Emma asks how Simon and his pregnant girlfriend Christelle coped with the extreme heat.

Deep-sea diving in Martinique
Léonard took his new wife Sophie deep-sea diving in Martinique.

Discovering Guadeloupe
Alicia takes us on a tour of some of Guadeloupe's tourist spots.

Drôme provençale, a little piece of heaven
Vincent tells us about this beautiful region in the South of France.

Easter plans
Julia hopes Easter will be nicer this year!

Édith Piaf
Here's a short biography of one of France's most beloved singers.

Engagement dinner's speech
The bride's father thanks the guests for attending and announces the evening programme.

Engagement surprise
Louise enjoys an unexpected visit at her engagement party.

Family Zoom Call
Laurent tries to coordinate a Zoom call with his mother and grandparents.

Financial advice
Alicia had a meeting with her financial advisor.

Fireside memories
Manuelle has warm memories of family times by the fireside.

First day back to school
Sabrina tells us what she'll do on her children's first day back to school.

Fishing with my father
Julien remembers going fishing with his dad when he was young.

French Mobile Phone Habits
We're taking a look at the importance of mobile phones in French people's lives.

Gardening weekend
Jean-Pierre had a busy weekend taking care of his garden.

Gastronomical review
Discover a mouthwatering review of a French restaurant.

Gluten-free living
Alexandre tells us how he dealt with his newly discovered gluten allergy.

Gustave Moreau Museum
Claire tells us about her fascination for 19th-century symbolist painter Gustave Moreau.

Holidaying in July
July is a hard time to organise holiday [US: vacation] for, as Martine and Sam found out!

How to show your love?
Marianne and her partner Adèle are making some changes to show their appreciation for each other more.

How to take the best portrait photos
Sylvie gives Jacques some tips to improve his portrait photos.

If only I'd won the lottery!
Vincent shares what he would have done with the lottery money if he'd won.

If you could learn anything instantly...
Irène, Julien and Pascal answer the question.

In the Jura mountains with my dog
Stéphane recommends going on a mountain holiday [US: vacation] with your dog.

In the lives of the writers of French romance novels
Discover what the life of a French writer of romance novels looks like.

Jean-Marc Vallée
Nathan and Florence discuss the late Quebecois director Jean-Marc Vallée.

Johnny Hallyday, a French icon
Paul and his mum talk about her favourite French singer, Johnny Hallyday.

La Petite France in Strasbourg
Discover this unique area of Strasbourg, a UNESCO site and tourists' favourite.

Last-minute hesitations
François is torn between his love for Marianne and his duty to the Duchess who he's about to marry.

Letter to my daughter
Marc writes a love letter to his newborn baby girl.

Letter to Santa
Timothée writes to Santa, hoping he's been good enough this year...

Long distance relationships
Here's some advice on how to keep your long distance relation working.

Luxembourg: A bit of history
Learn about the early history of this interesting country.

Missed plane!
Bastien missed his morning flight to Paris!

Missing a friend's Hen [US: Bachelorette] Party
Manquer l'EVJF d'une amie

Moana's French voice-over's interview
Paul interviews Cerise Calixte, the French actress who gave her voice to Disney's Moana (Vaiana in the French version).

Montpellier, city of street art
Valentin tells us why Montpellier is a great street art city.

Multilingualism in Alsace
Find out which languages are spoken in Alsace.

My family's Hallowe'en
Martin tells us about his family's Hallowe'en traditions.

My first Mother's Day
Danielle looks back on her very first Mother's Day with her son.

My life as a locavore
Sophie explains why she decided to become a locavore.

My son's school trip transformation
Naomi wondered about her son's strange behaviour after his school trip to France.

My trip to Lyon
Yvan spent a few days exploring the French city.

Nice's cuisine: a healthy diet
Find out why the dishes from Nice are so healthy.

Not the festival type
Jean-Marc discovered that outdoor festivals were really not his thing!

Ode to my favourite uncle
Simon writes a loving text to his favourite uncle.

Of the difficulties of learning French
Mike and Jane discuss the challenges they encountered learning French.

On a desert island
Pierre discusses his friend Yves's choice of single item that he would take with him on a desert island.

Our baby's progress
Christophe can't believe how fast his baby daughter is growing up.

Paris Catacombs Visit: Juliette's review
Juliette reviews her visit of Paris's Catacombs.

Paris's Haussmannian revolution
Learn about the architectural revolution that took place in Paris in the 19th century.

Planning mishap
Fabienne and Pascal were to meet Charlotte and Cyril to go to the cinema...except they showed up an hour late! What happened?

Playground battle
Thomas and Alex fought an epic battle in the school playground.

Police Station Dialogue
Detective Jacques Poireau is interviewing a murder suspect.

Pompidou Centre
Learn about the history of this unique building in Paris.

Prepaid travel cards
Alain talks about the advantages of prepaid travel cards.

Real daredevils!
Patricia's twins have a loyalty card at the local hospital...

Results of the 2022 presidential election's first round
Here's a summary of the main results of the first round of France's 2022 presidential elections.

Review of the iPhone 8 Plus
Christine reviews the disappointing new iPhone 8 Plus.

Roxy's bath
Giving a bath to her dog Roxy is really no picnic for Lisa!

Staycation: a positive experience
Oscar talks about his experience with staycations.

Stereotypes about girls: an evolution?
Danielle Moreau, a sociologist, talks about the evolution of stereotypes towards girls on a radio show.

Summer recipes
Marielle shares her favourite summer dishes with us.

Taking the children to the park
Overwhelmed dad Luc tells us about the challenge that is taking the kids to the park.

Taking the driving license test
Irène is taking her driving license test.

The "Veuve Clicquot"
Here's the story of how widow Barbe-Nicole Clicquot created one of the most famous champagne brands in the world.

The Abbey of Fontevraud: a Royal affair
Eleanor of Aquitaine answers a few questions about the Abbey of Fontevraud.

The benefits of music
Mathieu tells us about the benefits of music.

The best house painting company
You won't find a better house painting company than Jean-Pierre's!

The city of the future
Yann asked people what they imagine cities will look like in the future.

The feminist revolutionary Olympe de Gouges
Bastien tells us about this extraordinary humanist writer from 18th century France.

The flower fair
Damien and his family really enjoyed their visit to the flower fair.

The French language in the world
Find out about the impact of French in the world.

The GPS is malfunctioning!
Rémi and Isabelle's car GPS is malfunctioning!

The King cake
Learn about the tradition around King cake.

The Lumberjack - Part 1
Here's an original Christmas story about a lumberjack who lived in the North Pole...

The Lumberjack - Part 2
Who left those tiny footprints? Here's the end of our original Christmas story!

The town of Gruyères
Sébastien had a lovely time visiting the famous Swiss town.

To our adopted son
Christian tells his son how wanted he was and still is.

Unicycle passion
Yvette tells us about the day when her passion for unicycling was born.

Welcome to Lille
The northern city has a lot to offer to visitors.

What's a good mother?
Julie has been getting much contradictory advice since she became a mother.

Who's your favourite football [US:soccer] player?
Bertrand and Léa discuss their favourite French football [US:soccer] players.

Why did I become a vet?
Jean-Luc tells us what made him choose this profession.

Working as a PA
Sophie talks about her career as a personal assistant.

Writer's Block
Lucille talks about coping mechanisms to circumvent the dreaded writer's block.